I have never been employee of the month, so for starters, it's kind of neat to see what it feels like. Also, I'm doubly flattered, because I have only been working at Homestead for 2 months, and they already think I'm awesome enough to recognize :)

It feels so nice to have some recognition, and appreciation, from a job.

Also, I am getting a gift certificate to Michael's :D

Life is so good, you guys. Seriously.
I am employee of the month!


- Job.

Job is amazing. I don't know why it's different being a caregiver this time around...I'm a different person, in a different point in my life, and I'm a different caregiver. I am not cutting corners, and working 2nd shift, I actually have time to learn who the residents are, and they bring me so much joy, I feel so blessed to know each and every one of them. I love making the money I feel I deserve, and while I certainly get stressed, it's never debilitating stress. Not once have I come home, depressed or angry about the kind of stress I am feeling. It is stress I am willing to feel, because it is substantial stress about things that matter, not about greedy customers, and shitty coworkers. It's about life and death, and the health of fellow human beings.

My coworkers are amazing, too. Some of the best I've ever had. They all pull their weight, and are incredibly sweet and considerate to me, my feelings, and my shortcomings. There are few and far between coworkers I don't care for, but it's so rare that I feel that way about someone, it's hardly worth mentioning.

- Health.

My asthma has been so incredible. After finding the free clinic, and returning to acupuncture, I have had enough energy and lung capacity to feel normal for the first time in years. Hell, for the first time since probably high school am I able to breathe clearly through my nose. I can taste things and smell things consistently for the first time in such a long time, it's like I've got a whole new set of senses. I'm not exercising yet, but the other day I did run around my basement a few times to get some of the restlessness out (and I'm still too neurotic to run outside, where people can see me). It was invigorating, to run for the first time in such a long time, even if it wasn't very much.

- Relationships.

Things between Gabe and I are strong, but also between me and my other friends. Andy, Elsa and I are getting together for writer's groups every other Tuesday, and it's so nice to return to that. Aaron and I are still trying to get together more often, and I miss him. It sounds like Tracy has graduated, and I can see the both of them more often than before. It will be nice.

- Arts.

I am reading, writing, crocheting, and baking often. It makes me feel like I am accomplishing things. I am even learning how to do things with my hair! I have learned some simple updos, so that my hair stays off of my neck at work, and it's been really nice to not have to futz with a ponytail every few minutes. I feel enriched.

This is really the happiest I've been since I can remember. There have been times I have been happy ENOUGH, but it's never been like this- this complete. I hope this will last.

In slightly related news, I have my evaluation coming up on the 23rd. I expressed my concerns to Lori that the new nurse wouldn't be able to give me a decent evaluation, and she said she completely understood where I was coming from, and bumped it back from the end of June. I have to fill out a self-evaluation, and we will kind of compare notes about me, to see what I'm doing well, and what I need to improve upon. I have never done a self-evaluation, and I'm scared and excited to see what Lori thinks. I am also excited about a possible raise.

I work 8 days in a row, and as much as I am enjoying my job, I am going to enjoy it more once this 8 days is over.
Things have been going mighty fine as of lately. The other night, I started to cry, not from depression or hopelessness, but from joy. Pure, unfiltered joy about the way things in my life are going right now.


Monday, May 6th, Timeless Time, Books are Fun!, Christmasland, CO. Special invitation only. See Charlie Manx for ride to event.

JOE HILL I WANT TO MARRY YOU. YOU ARE MY NEW FAVORITE HUMAN BEING.
Event listed randomly in the middle of the list on Joe Hill's site for Book signing events:
Current Mood:

appreciative
- Bought MAGE WARS. This is a board game that the guy from I'm Board talked to me about when I was there to buy Evo. It's like Magic, except there is a board (or 'arena', if you will), and a it comes with a SPELL BOOK, so you keep your cards in the spell book and can use any of them at any given time, so the luck factor is slightly higher....although, there is dice rolling involved, so I don't know. Gabe and I WERE going to play tonight, but after reading through the rule book for awhile, it got kind of late, and it just turned out that we didn't have time for it. So, that was kind of disappointing, but hopefully soon. I'm SUPER PSYCHED to play it, and I hope we can get to it soon.
- I also bought "Evil Baby Orphanage", the concept being that you are a time travelling nanny, who is going through time to adopt the baby-versions of history's most evil people to try to help them grow up to be good people. It was only $18, and it sounded like a fun party game, so I grabbed it.
I've really enjoyed spending time (and money) at I'm Board. The people who help me are always extremely nice, and I think a part of me really enjoys supporting a local game store. After Traveler's Hearth went out of business, I get a strong sense of pride knowing that I spent a couple extra bucks to support a local game store (instead of seeing something cool in the store, then going home to buy it online for cheaper). After the Hearth went out of business, I guess I really know how important it is now. Anyway.
- I bought SPACE SHOES!!!!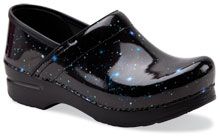 Err...I guess you can kind of get the idea.
Considering my levels of hip/back/joint pain, not to mention severe exhaustion, I decided that new work shoes would be the answer. I went to Morgan's Shoes, which is a really expensive/snobby shoe store in the same mall as Sundance, and after talking to a guy there about my situation, he pointed to this style. One of my coworkers has these (but with flowers, not stars), and he says that a lot of people who are on their feet a lot, or work at hospitals, wear these for comfort, and to deal with the hours, and being on your feet. They were pretty expensive, and I work tomorrow, so I'm reallyreallyreally hoping he wasn't just trying to get some money out of me. I keep thinking about how I noticed my coworker wearing them, and that's giving me some faith...it's also a part of the 'professional collection', so that has to be worth something I suppose. I don't know. I'm sure they'll be fine, I've just never spent $140 on a pair of shoes before, so I'm a bit on edge.
At least they are space shoes.
I also went to the asthma clinic, since my emergency inhaler and advair were both getting pretty low. They gave me about 4 weeks worth of the strongest dose of Advair (A $300+ value...free!), as well as some nasal spray in hopes of clearing up my chronic congestion/stuffiness, and of course an albuterol inhaler with 60 puffs on it. I really hope this will do something. I'm honestly mostly excited about the nasal spray, since it's just gotten to a point where I deal with my stuffiness, and sometimes just kind of forget about it...it might be nice to be clear of stuffiness for once.
ANYWAY.
I BOUGHT OTHER THINGS, TOO!!!
- Volumes 2 & 3 of Locke and Key (both hardcover). Aaron bought me the 1st volume of Locke and Key for my birthday and I fell absolutely head over heels for it, I couldn't wait to order more. There are only 5 volumes out right now, so I won't spend too much money to catch up, which will be nice in a sense. I am pumpppppppppped.
- Heart Shaped Box by Joe Hill. Joe Hill is the author of Locke and Key, and I wanted to see what his novel writing is like. I've heard the book mentioned a lot, and I decided to go ahead and buy it.
- Another shirt! Oh yes. This time I got a shirt with a Lego version of Moss from IT Crowd on it. Hopefully, soon, my entire wardrobe will be comprised of silly Teefury/Shirt.Woot shirts and crocheted cover ups. It's who I am, I guess.
- Sailor Moon CCG T_T! I don't know why I did it. I bought a lot when I went through my Ebay addiction last October, and I don't
really
ever play it. But, I managed to get 10 booster packs for $1 each (plus $6.50 shipping...Seriously...1.65 a pack?! How could I resist?!), and I found someone on Ebay selling "200+" cards, including 2 holographic ones, and I got them for $3.24 (plus $6 shipping)...but still, less than $10 for OVER 200 CARDS. SV&(WEV*(F&# Pretty pumped for that. Although, I really need more card protectors, and I should probably make an attempt to play that game if I'm going to have somewhere around 500(?!) total cards after those arrive. Also, if I have a weird addiction to compulsively buying these cards, I should do something with them. I mean...really.
So yeah...I got a lot of shopping out of my system. I still have money left, too, which is nice...not a TON, by any means, but I'll be able to go out for coffee, or pick up bread, or put gas in the tank, and pay for acupuncture, etc, and that's even considering the fact that I've given Gabe much of the money that I owe him....so I'm glad I didn't manage to overdo it TOO much. I mean, I TOTALLY overdid it, but it could have been much, much worse. :P
Now, I think I'm going to waste some time on BoardGameGeek. I was thinking about playing some FFV (my drug of choice this week), but I guess I'm just not feeling video games tonight.
I got my first paycheck from Homestead that didn't have to be used for rent, and I promptly spent most of it on frivolous things. Oh yes.
Current Mood:

happy


At least I know I'm not becoming boring. I guess I just need to focus on a second hobby to keep my mind occupied when I've crocheted for 6 hours and still have 10 hours left in my day. I have been knitting, and even though knitting is so different, they manage to feel so alike. I just don't know what else I want to do, though.

In other news, I ordered about a dozen things from online again >_> The only difference this time is that it's not a bunch of Sailor Moon crap, it's all stuff I've actually needed or wanted for awhile....mostly wanted. Circular knitting needles, crochet stress gloves, a few books (INCLUDING TREE OF CODES. FINALLY. BEEN ON MY WISHLIST SINCE 2010), a few things for Valentine's Day, and a shirt. I traded in one of my textbooks to Amazon for a $75 Amazon gift card. I still have $28 left on it, too. I just figured I should save it for a rainy day. I tried looking for yarn, for about an hour even, but they didn't have the yarn I wanted (or anything close to it) for any less than $11/skein (with shipping and everything), so I guess no "free" yarn from amazon.

Ah well, Enough nonsense, I guess I have a shirt to finish. I made a shirt the other day, only to try it on and realize it looked like a giant mesh bag on my figure, so I unraveled about 75% of it to remake it in a completely different fashion. I made a band of cinched mesh under the bust, then brought it back out to it's normal size for a babydoll style. It's obviously veering way off from the pattern, and I have to remake most of it, so I really hope it turns out and ends up being worth the time I put into it.
I have been so bored lately, and I've been trying to figure out why, because I am just NEVER bored, it hasn't happened to me in SO long, since I've always got one project or another happening. Then I realized that I'm AWAKE more. Since the hour shift at Aldo's, I'm getting about 6 - 7 hours of sleep a night, and on weekends I have absolutely no problem waking up at 8 AM, then not going to bed until midnight. I know 16 hours is the norm, but for as long as I can remember, I have woken up really really really late, then gone to bed 12 hours later. And in the past, I will have gotten 10 - 14 hours of sleep before work, worked 8 hours, then gone to bed 2 or 3 hours later. I AM AWAKE SO MUCH MORE NOW.
Current Mood:

awake


But I am up so late because I was FINISHING MY FIRST KNITTED PROJECT! I KNITTED SOMETHING!!! IT LOOKS AWESOME. It's a big, bulky cowl that wraps around my neck perfectly. I USED GARTER STITCH. YAY KNITTING. I HAD SO MUCH FUN.

Stitches only fell off my needles twice, and although cussing and flipping out ensued, I managed to makeshift my way into a FINISHED ITEM.

So happy. Can't wait to knit more. It's kind of unfortunate that I have a crochet Etsy order to finish u.u Oh well. Not like I don't have time.

ALSO KNITTING.
I haven't been up since 1 AM in a long time.
Current Mood:

tired

I have much food and coffee
Morning elation
First time in so long
Current Mood:

energetic


Job hunting is going slow. Applied to about a dozen different places, then a bunch of different things got in the way: Standing in line for food stamps and prescription help (WHAT UP POOR PEOPLE), finishing up some mug cozies for an Etsy order, trying to file for unemployment, oh, and my health completely debilitating me.

Recovery is also slow. I got sick 2 - 3 weeks ago, and ever since, it's like one thing goes away, and another pops up. Hell, the other day my earache was accompanied by feeling so cold even 2 sweaters and 3 comforters made me feel only tolerable, and the next day followed by such listlessness I couldn't do much of anything. Now, it seems like today I'm plagued with the worst cough I've had in ages, and a headache that pangs when I cough. I guess at least I can leave the house, I would just rather not.

Novel is also slow. Rocked my way up to 48,330ish words by midnight tonight, then took a '10 minute break', which is still going on...2 hours later. So, doesn't look like I'll be doing much on that for the rest of tonight. I'm in the final stretch, but I'm scared if I start writing I'll get into "I CAN DO THIS TONIGHT" mode and be up until 4 AM, and frankly, I should be in bed as I type this.

All in all, I wish things would start to progress a bit.

I guess, in hindsight, if anything has prgressed, it's mine and Gabe's relationship. I ended up screaming at him in the car earlier today, and we hammered some things out. I can't wait until he's done with school, and we're both rich.

Also, LJ? Way to change your look for the first time ever! I am so digging the makeover.
Things are going slow.
OBAMA!!
Looking forward to waking up tomorrow, and not being ashamed of my country anymore than I normally am.
TAMMY!!

What an awesome day for Wisconsin, and us annoying (Liberal) Madisonians!

Life is good today. I'm not the partying type anymore, but I certainly had a celebratory cup of 11 PM hot cocoa to celebrate.


Life is good today. Life is good.
Current Mood:

ecstatic
Gabe and I 'celebrated' our anniversary on Monday. Which consisted of us going out for dinner, then watching Star Trek. I fell asleep from being so full, and Gabe spent the night coughing and sneezing since he's sick.
There's not even any candy in the house. I've spent the day in my witch costume....but it isn't doing much for me.
NaNoWriMo starts in 6 hours, that doesn't feel real, either.
What is happening this year?
In other news, I spent the day blogging. Yes, blogging. About my
awesome crochet creation
. I had to write out the pattern, then cross post it onto like 1,000 different sites in a weak attempt to get my name out there. Blegh.
Now it's onto more creative stuff. Since I dropped out of my Wednesday class, and can't drive out to work on Wednesdays, I'm using it as a day to make sure I get creative stuff done. Not a bad idea. I just hope I keep it up.
Anyway. Happy Halloween. Or whatever.
It doesn't even feel like Halloween.
Current Mood:

blah